Patient:
Have you ever been a patient? Have you ever visited a pharmacy and are you curious to know what goes on behind the scenes of this elusive world? You will be surprised by these stories from behind the counter.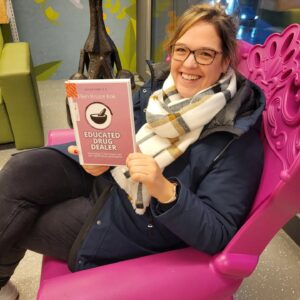 Preface
An idiosyncratic world
This book was not just written for pharmacy assistants, but for anyone who is interested in the daily goings-on at a pharmacy. It was written by a pharmacy assistant from the Netherlands. I will be giving you a peek behind the curtain – or should I say, counter – of the pharmaceutical industry and my life in general. A world that you don't just fall into if you aren't already a part of it. It is an idiosyncratic and elusive world to outsiders. In the past, I regarded the pharmacy as something 'magical'. Many of my colleagues longingly look back on the 'good old days'. Has that much really changed?
Yes, a lot has changed. I feel privileged to be writing this book. An honest book with raw truths. The beautiful, and less beautiful sides of this profession.
Telling and reading stories is an important part of my life. Over the past couple of years, writing has only increased in importance for me. Writing a book is like a dream come true. But it wasn't easy. I underestimated the task at hand. It was quite an undertaking to write a book while I also had a young family and a job to take care of.
No one asked me to write down the part I played in this magical world, I did it of my own volition – happily, I might add!
What patient really knows what goes on behind the counter of a pharmacy? It is time to tell you that story, in the eyes of the pharmacy itself.
Now, my book lies in front of you. It took a lot of blood, sweat, and tears. But it was worth it, I'm sure of it.
Ellen Kruize Kok – Pharmacy assistant
Read more