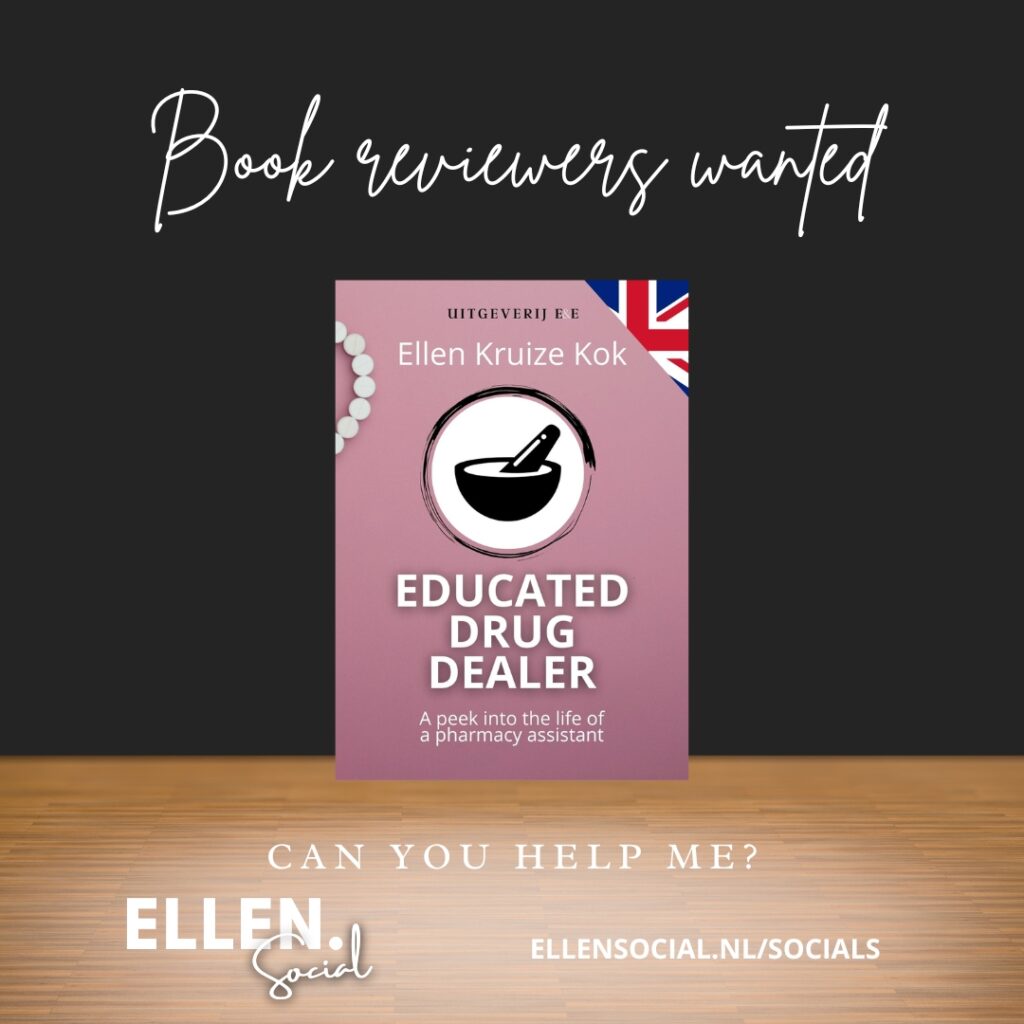 I'm Ellen Kruize Kok, the author of "Educated Drug Dealer," offering a unique perspective on life as a pharmacy assistant. Beyond the routine world of prescriptions, this book provides an in-depth look at the intricacies of working behind the pharmacy counter. My stories paint a picture of experiences ranging from heartwarming patient interactions to challenging moments that encapsulate the day-to-day reality of this profession.
Currently, I am actively seeking reviews for "Educated Drug Dealer" from individuals who speak and read English and are based in the Netherlands. If you are a book reviewer interested in sharing your thoughts on this unique perspective of life behind the pharmacy counter, please let me know, and I'll be delighted to send you a copy!
"Educated Drug Dealer" illuminates the often unseen aspects of the pharmacy assistant role. The title playfully acknowledges the fact that, as healthcare providers, we are trained to legally dispense potent medications. However, the genuine occurrences behind the counter remain unnoticed by many. The stories within this book offer a sincere and vivid portrayal of my daily experiences, taking the reader on a journey through the complexities of the pharmacy world.
Here are a few words from others:
Klaske Bakker: "Original, trendy, and written with flair. Definitely recommended for those wanting a peek behind the scenes of the pharmacy." Linda Hindriks: "A charming and spontaneous book that reads like a casual conversation. An openhearted story about life and how Ellen Kruize Kok became a pharmacy assistant."
If you're a book reviewer interested in exploring this 'educational drug dealer' journey in the English edition and speak and read English while residing in the Netherlands, drop me a message! Together, we can unravel the fascinating world within these pages.
Could you kindly leave a review in English for my book on these websites? Your thoughts mean a lot! Thank you for your support:
Goodreads
https://www.goodreads.com/book/show/123160019-educated-drugdealer
Hebban
https://www.hebban.nl/boek/educated-drugdealer-ellen-kruize-kok
Can you see if "Educated Drug Dealer" is available in your country? Check it out on Amazon and let me know!
https://www.amazon.nl/dp/B0BL24X4RG?ref_=k4w_oembed_Mg4OAMO9GjtQP4&tag=kpembed-20&linkCode=kpd
Please feel free to contact me for more information.
Kind regards,
Ellen
#books #bookreviews #readinglist #booklovers #bookish #bookcommunity #bibliophile #amreading #bookworm #bookrecommendations #booknerd #bookaddict #literature #goodreads #bookbloggers #bookshelf #readingnow #bookstagram #lovereading #mustread #bookobsessed #booknerdigans #currentlyreading #bookishfeatures #readersofinstagram